FAA rules allow anyone who passes an FAA knowledge test to fly drones commercially. This FAA certification is required for all drone operations, except those that are purely for recreation.
If you do any of the following, you will need to hold an FAA Remote Pilot Certificate:
Aerial photography
Land surveys and mapping
Public safety, security, and law enforcement
Agricultural surveillance
Industrial equipment inspections
Construction site surveys
Mining operations
Your Instructor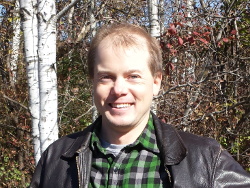 Joel Roggenkamp is a friendly and experienced educator and aviator who takes a student-centered approach to his teaching. He got his start in aerospace education at the age of 14, when he was appointed Aerospace Education Officer of his local Civil Air Patrol squadron. He took the Model Rocketry curriculum he developed there to St. Cloud Community Education, and later to North Hennepin Community College. In addition, he has five years of teaching experience ranging from middle school and high school, to teaching database development courses at the graduate level.
His aviation experience includes Cessna 152s and 172s, and most recently, flight time in a light sport Pipistrel Alpha. As well, Joel has been building and flying small unmanned aircraft systems for six years and is very excited to see where the industry will go, now that the FAA has finalized its rules on drone operations.
Frequently Asked Questions
How long will it take?
The course includes eight hours of active content (videos, exercises, and sample tests), and you should plan to spend four additional hours studying on your own, with the included study materials. Some students choose to block out a full day (say on a weekend) to go through the active content, and they're able to schedule their FAA tests in that same week. Other people prefer to spread the material out. Although you have access to the course for six months, you should make it a goal to complete the entire course in four weeks - spreading things out too thinly tends to weaken motivation and make it difficult to remember everything.
How long do I have access to the course?
When you enroll in the course, you have SIX MONTHS access to everything, including all of the sample tests. We've found that having a deadline is a good motivator to actually finish the class and get your FAA license. Most students finish within a month, if not sooner.
What if I am unhappy with the course?
We would never want you to be unhappy! If you are unsatisfied with your purchase, contact us in the first 30 days and we will give you a full refund.
Do you guarantee that I will pass the test?
We stand behind our course and the results that it generates, but your success does depend on your individual effort as well. We don't offer a pass guarantee, because it's important to have some skin in the game when taking the test.